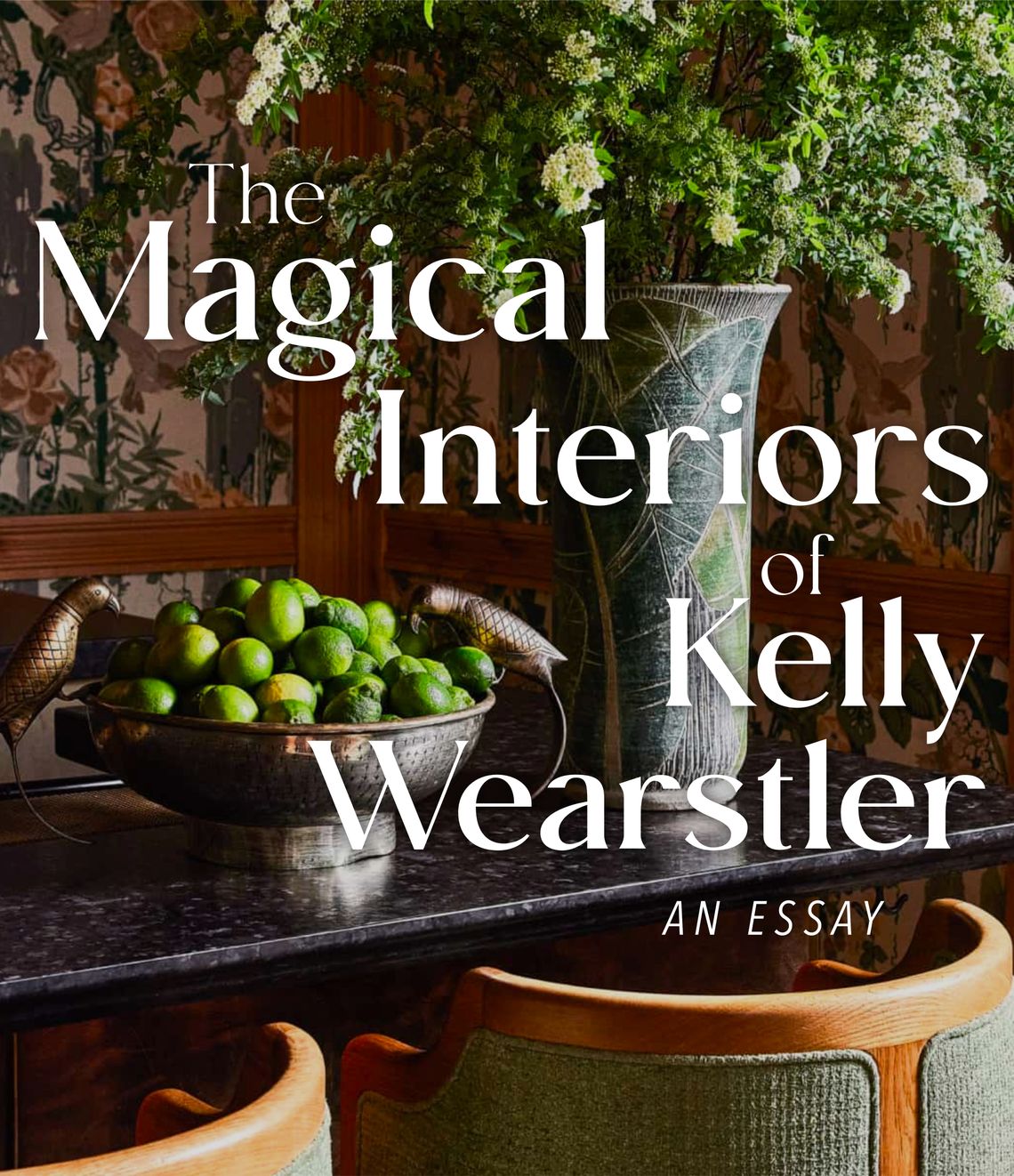 The Magical Interiors of Kelly Wearstler
Have you ever walked into a room and felt an overwhelming sense of wonder, but never understood why?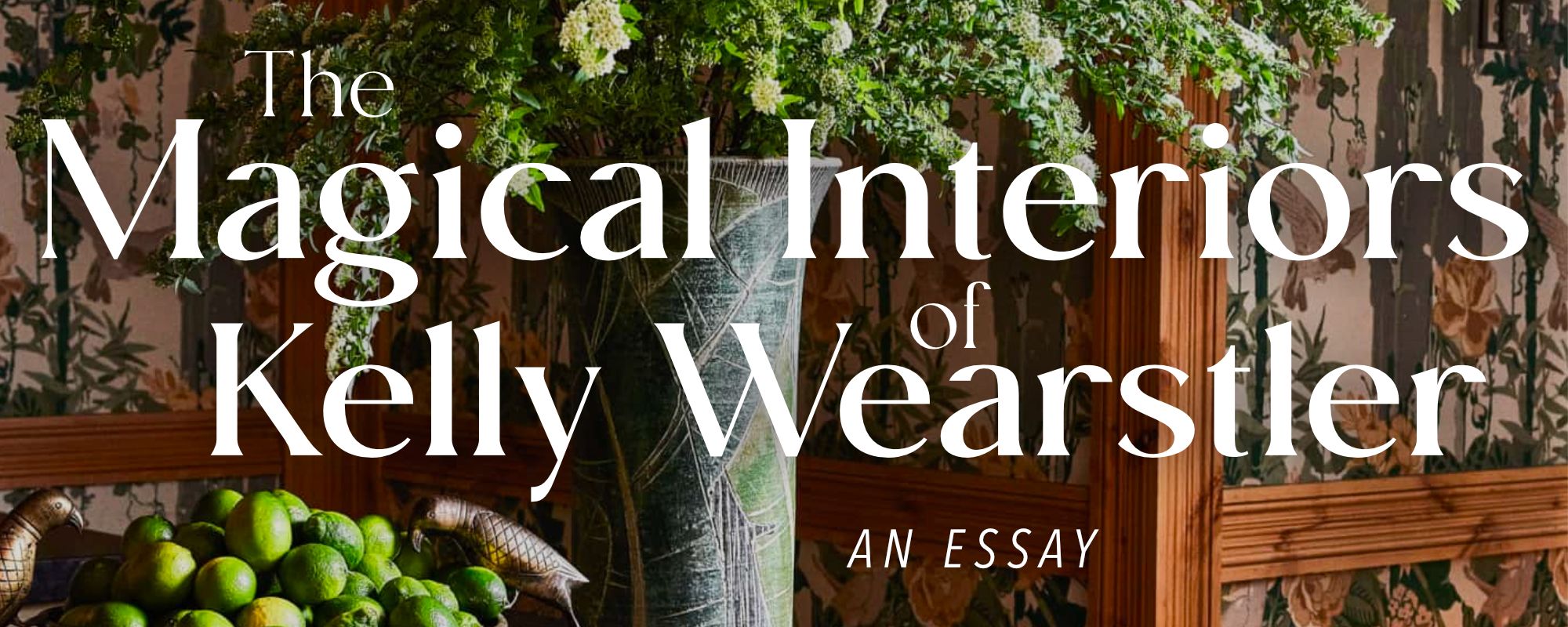 I walk into the Austin Proper and it's as if I'm teleported to an old-fashioned Southern tea party. A whisper of "Woah" escapes me. The walls are gardens, with roses and wildflowers nestled in lush greenery. I'm delighted by mis-matched chairs, all round with soft pink fabrics. Cartoon spider legs support the polished pink marble tables. I sink into the gold velvet sofa and face the bar. I'm curiously invigorated while at ease. Two bronze birds perched on a bowl overflowing with limes sits at the end of the bar. A rose tinted oval mirror caterpillar-ed with copper pipe lighting hangs on the back wall. I'm waiting for tea to be served.
But in reality, I'm at Goldie's, an Austin Proper hotel bar designed by Kelly Wearstler.
As an architect, I never got to design wonderful spaces. I was bound by budgets, black and white technical drawings (blueprints in the 21st century), and a computer screen. I discovered Kelly Wearstler back in 2019, when a colleague scrolled through her instagram at the lunch table. My eyes bulged as I grabbed my colleague's phone to examine Kelly's interior spaces.
We're in the same industry, but opposite realities. Kelly's surrounded by color, pattern, textures and shapes, free to create a physical experience in the real world, working with the sun. Captivated by the multiple bold patterns and eccentric sculptural furniture, I needed to know how she stirs curiosity and wonder in me.
So I took a career break. As soon as I escaped fluorescent lighting, I immediately took Kelly Wearstler's Masterclass and quickly learned that I too can design magical spaces. Anyone can, even you. Here's how:
1. Mirrors Make Everything Bigger and Brighter
Kelly firmly believes that, "being a good designer is about visual trickery, and a mirror is the perfect medium to use." Mirrors are a magical solution to making any room feel bigger and brighter. They bring life to windowless rooms. Whether it's a fully mirrored wall, like the dining room above, or just one blobby shaped mirror propped up on a dresser, you will instantly notice a difference in the depth of the room.
Another visual trick that Kelly recommends trying is adding an object in front of a mirror, like this chair in the image above. My brain is telling me there's a second chair, but the mirror is actually a window into a spatial illusion.
Kelly also suggests adding 2 mirrors on opposing walls, to create infinite space. Attempt at your own risk, because you might end up in a different dimension.
2. The Gallery Wall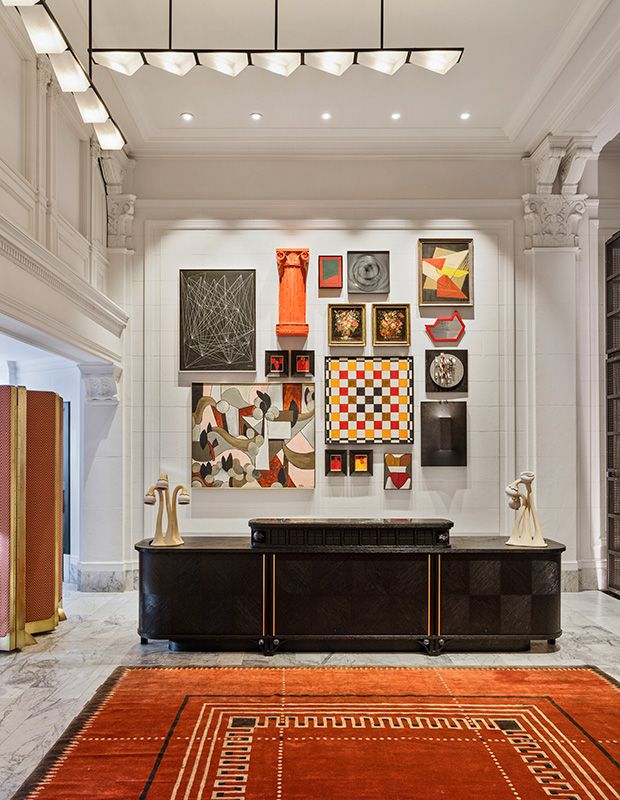 At first glance, there is a lot going on in the image above. Which is possessing me more, the blazing checkerboard or the neon column?
Kelly intentionally placed all of this mesmerizing art on one wall, for one reason: to set the focal point of the room. Individual elements become a whole, where you will naturally gravitate to out of curiosity, to examine the smaller detailed pieces. Guests can easily locate the reception desk in this hotel. Like a bug attracted to light, how can you not be drawn to the art on this wall?
A gallery wall can also be a whimsical mix of whatever sparks joy. Kelly demonstrates this perfectly in the image above. Art, mirrors, family portraits, clocks, and a rope light sign are some of the many objects you can use. You're only limited by your imagination. My friend even threw a Samsung Frame TV into her gallery wall, a fancy form of visual trickery. I was fooled when the Monet suddenly turned into a rowdy, live football game.
3. Mix Furniture Shapes and Patterns
Kelly successfully mixes furniture and accessories of different colors, patterns and shapes. Her design of the San Francisco Proper Hotel is a perfect example - she juxtaposed vintage furniture in different styles, from modernism to Victorian floral. This lively mix creates visual and tactile wonder.
But HOW does she do it? She defines a set of rules. Every piece of furniture, light fixture, and accessory shares a characteristic. In the room above, anything you can sit on has parabolic arm rests shaped like shark fins. There are no sharp corners on the coffee table, nor the little shelf on the floor lamp. There are different materials, patterns, and shapes, but every element has a touch of pink, whether it's the full object, or just an accent.
Easter egg: Look at the painting on the window sill… It depicts you… sitting in a room of pink chairs. The artwork is a mirror! Trippy. This feels like interdimensional travel.
Making my own Magic
After studying Kelly Wearstler, I became a confident interior magician. I started with a vintage piece, my grandpas' side table (there's always something quirky to discover in grandpa's house that's top quality, because everything was built to last in the good ol' days).
Grandpa's side table features 3 carved wooden swans, standing as posts, supporting a round glass top. An invasive vine plant in a terracotta pot is centered on top. It's next to a long modern white console table also topped with plants of varying shapes and sizes. On the wall above is a mirror, and my mom's collection of Haitian folk paintings, with scenes of lush green landscapes and colorful village fruit markets.
In my career as an architect, I never got to design magical interior spaces like Kelly Wearstler. But now I can, in my own home. This combination of collected items sparks wonder in anyone who visits.

---

Special thanks to Steven Foster, Sandra Yvonne, Charlie Bleecker, Arman Khodadoost, Jon Vasquez, Helen Jiang, David Wolfe, Mak Rahman and Michael Dean for your valuable feedback on this essay.
Feature photo from Kelly Wearstler.