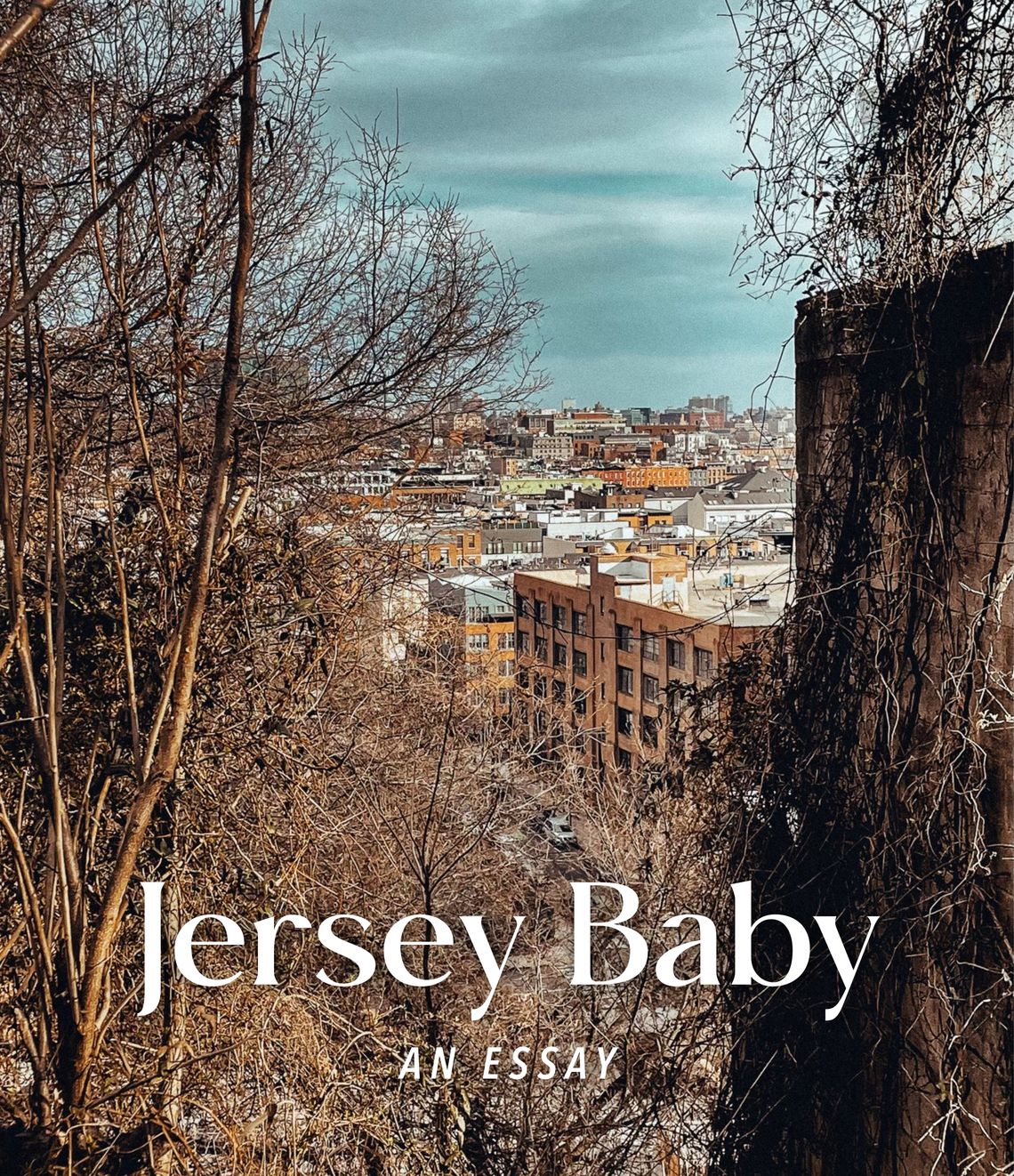 Jersey Baby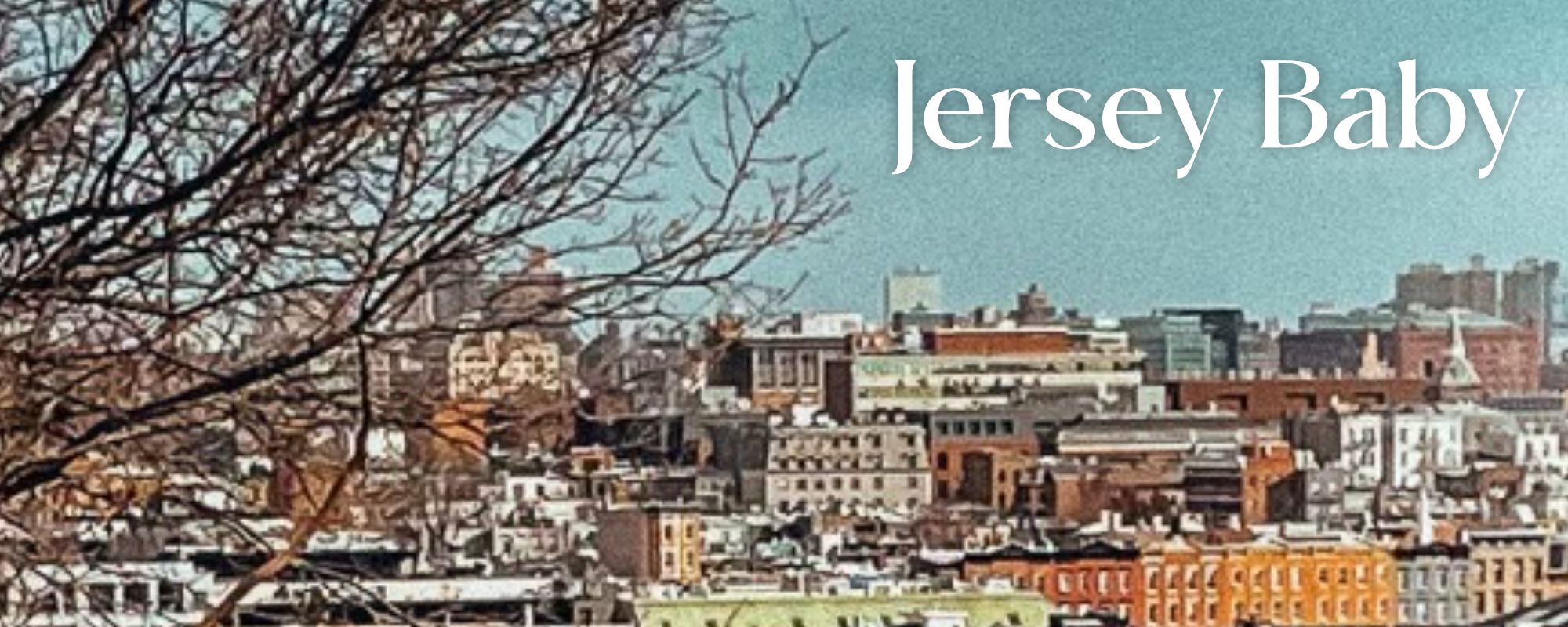 "Maybe I can pretend I'm sick?" I pleaded with my husband, trying to reverse the plan I committed myself to tomorrow.
"Don't be flakey," he replied. He was right. I wanted to see my friend and her baby. But not in Jersey. I'd have to somehow cross two rivers to see them, and relive traumatic memories of my dad dragging me to Jersey in his Jeep, to see my older half-sisters who lived there.
Growing up, we'd go to Jersey a few times each year. He'd always drive us because he was above public transportation. Nausea and frustration consumed me, as I was trapped, getting thrown around the passenger seat in stop-and-go traffic for 2 hours straight. The hum of the eight cylinder engine rattled through my body. While my dad chain-smoked cigarettes and screamed into his flip-phone, I'd rest my chin on the fully opened window, gasping for air, and try to tune out the sound of his raspy voice.
As soon as an opportunity to travel to Jersey comes up, every voice in my head pleads "NO!" It doesn't matter the reason, even if it's a positive one, like seeing my friend in Hoboken who just had a baby.
My husband was right, I couldn't flake out on my friend the day before the visit. She's been a close friend for 8 years. On our first day at our new jobs as aspiring architects, we sat next to each other and hit it off right away. She's always been a sweet, patient and nurturing friend, more like a big sister, and I always knew she'd make a great mother.
At her baby shower a few months ago, she asked me and our other friend to come over while she's on maternity leave, to keep her from becoming a hermit. So when our other friend set up this visit a week ago, at first I thought, "Oh hell yeah, we've got to keep our promise." But then I realized she now lives in Jersey. I'd have to overcome my resistance to traveling there for the greater good of our friendship.

There's no way I'd drive. The thought of being trapped in a car for two hours made me queasy. Train, bus, and my own two feet were going to get me there this time. I expected this journey to be some version of hell.
On Sunday morning, I waited for the train on the platform high above the street among the tree canopies. Birds faintly sang in the background as I took deep breaths with the breeze. While I anxiously anticipated the journey ahead, a group of girls appeared and tried to force an unwilling pup into a tote bag. We all laughed when the pup accepted its fate as a new accessory.
That serendipitous moment set the tone for the rest of my trip. Both the train ride into Manhattan and the subway ride to Port Authority flew by.
Finding the bus in Port Authority wasn't as stressful as I thought it would be either. I discovered a digital interactive directory that gave me clear directions to my gate, so I didn't have to wander through dark winding hallways littered with signs pointing in every direction to all 400 gates.
When the bus arrived, I grabbed a seat in front. It was the perfect viewing spot to look out the windshield and at the bus driver. The ride was smooth, quiet even. No one on the bus talked and I didn't get nauseous. I watched the bus driver slowly turn the big steering wheel in front of him. He was in a flow, one with the road. With heavy eyes, I looked ahead, into the Lincoln Tunnel, and gazed over at the yellow ceiling lights. One-by-one they disappeared behind the bus. I slowly felt my body sink into the soft cushion of my seat.
Ding! The bus woke me from my trance. I reached my stop. The bus dropped me off at the top of a hill, and I was able to see all of Hoboken between the old buildings and trees. I made it to Jersey.
The journey went better than I expected.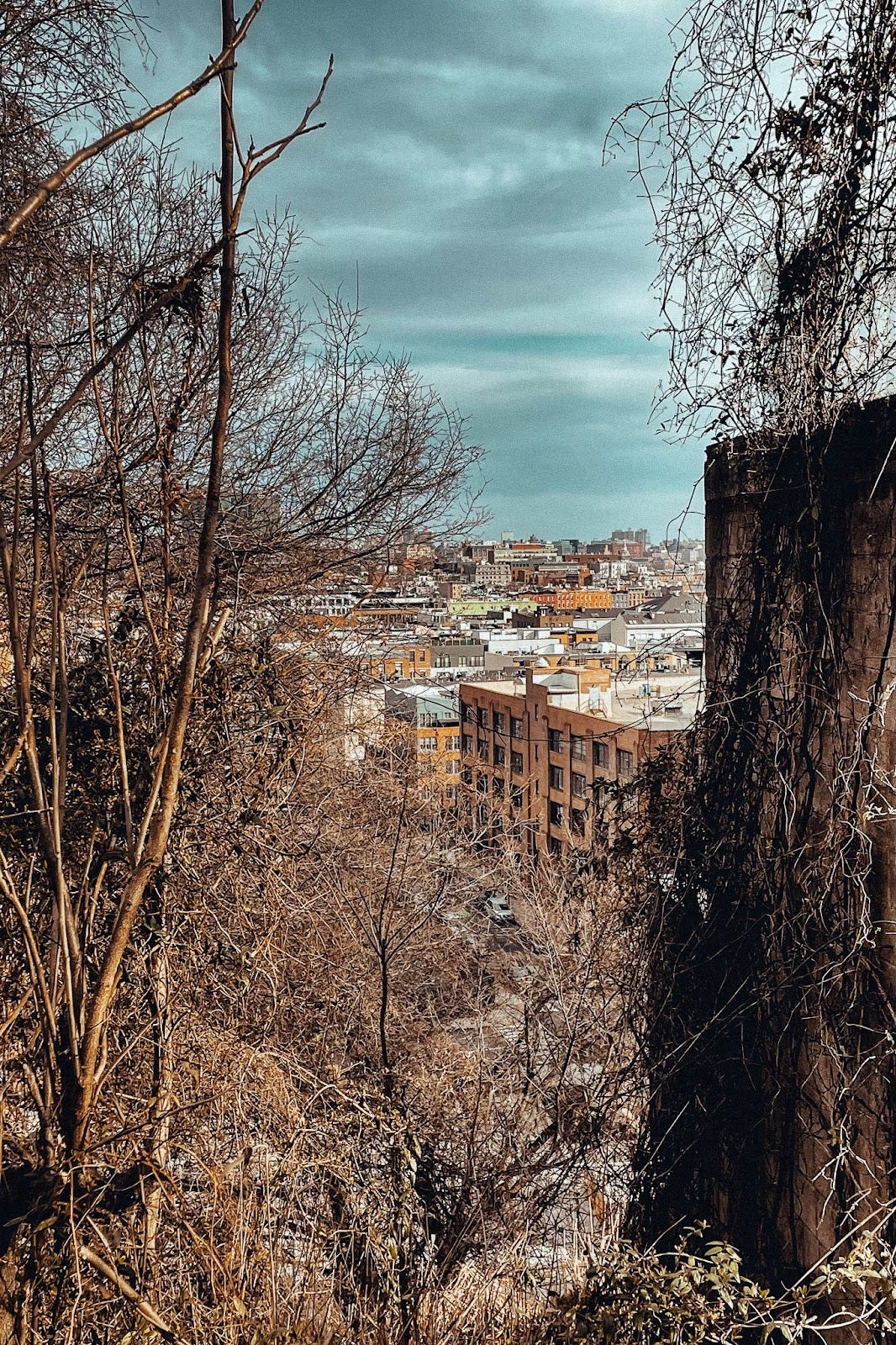 My friend greeted me at her door with a huge smile and a hug, engulfing me with her love and excitement. Her eyes lit up at the cheesecake in my hands. She quickly scurried off with it. Within seconds, her husband appeared, handed me their baby, and disappeared into one of the bedrooms.
There he was, in my arms, my friend's one month old baby. So small, so delicate, so pure. He kept his little sock-covered hands close to his chest. His eyes were a deep ocean blue and I couldn't resist staring into his soul. But he often looked away to stare at nothing on the ceiling.
I've never held a newborn before and I panicked when he showed signs of even the slightest discomfort. But my friend attentively watched, and guided me to rock him. I felt an unfamiliar, yet strong urge to gently rub his belly. He seemed to like that.
Once I got the baby basics down, I searched the apartment for my friend, now "Mom." She floated across the kitchen, preparing cheesecake slices and other snacks, with more energy and composure than I expected. I pictured first time parents with a newborn exhausted, freaking out, hair defying gravity, with shit everywhere (figuratively, and literally). But that was not really the case here. Mom and Dad were tired, but put together.
Mom was well rested, glowing, and in her element. She knew exactly what to do, and when to do it. She made motherhood look easy. I was honored to walk her dog, while our other friend pushed the stroller, so Mom could enjoy a hands-free walk around town with her ice cream. It was beautiful to witness.
We arrived back at Mom's place as night settled. Mom got her baby ready for bed, while I got ready to say goodbye. We exchanged warm smiles, long hugs, and eagerness to have another Jersey baby day soon.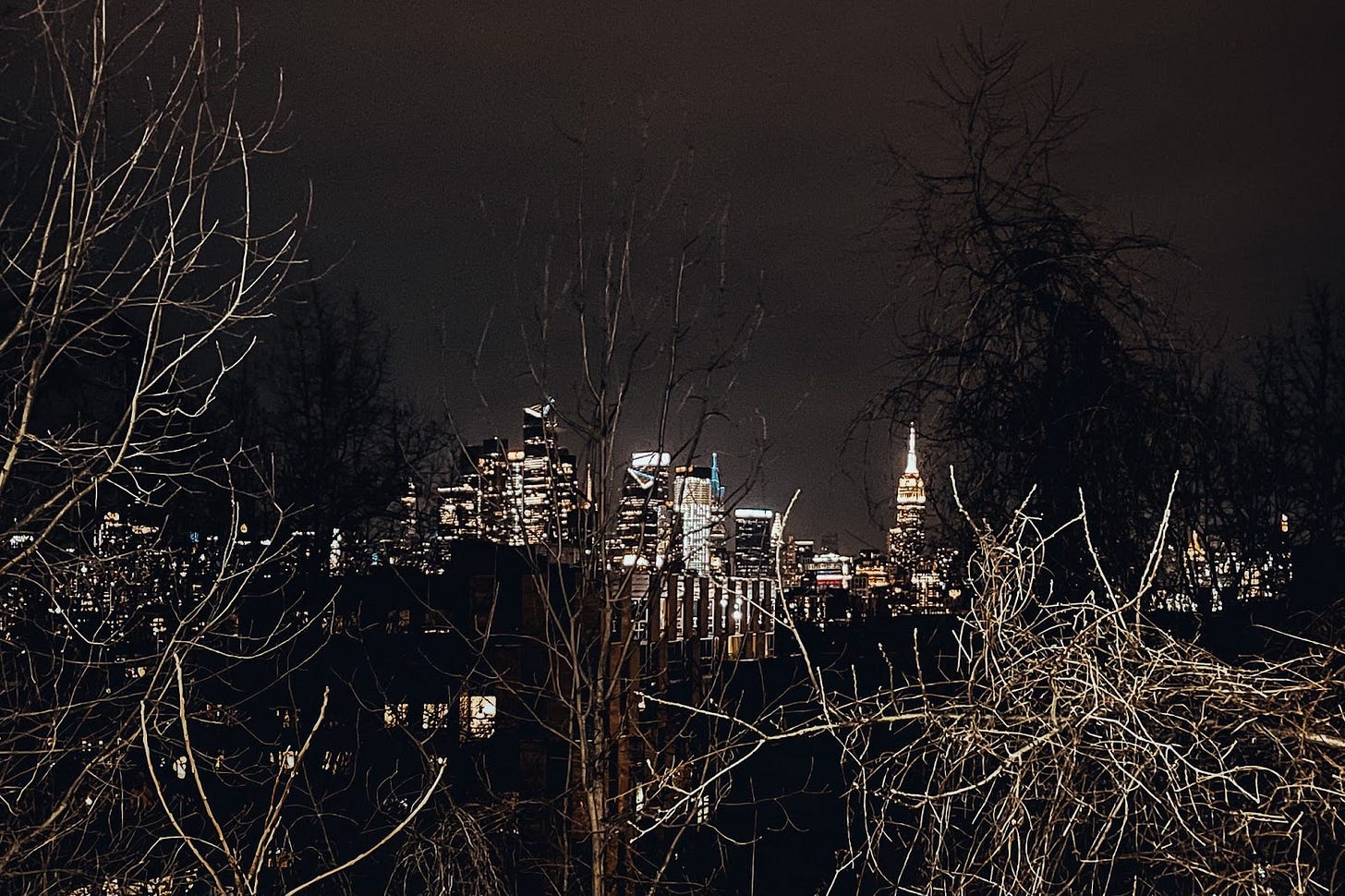 On top of the hill, waiting for my bus back home, I reflected on this trip to Jersey. It was unforgettable. Not only was my friend happy I came to visit, but I also learned baby basics and now feel more confident about becoming a parent someday.
And to think I almost flaked out. To do what instead? Stay home and scrub the dirt out of the tile grout with a tiny toothbrush? Or play a third round of Zelda: Breath of the Wild because I didn't want to relive difficult memories?
Even though they're in the past, it's easy to let those experiences growing up set my future expectations. But if I feel resistance at the thought of visiting Jersey in the future, I'll remember this special day.
Special thanks to TDB's Editor in Chief Sandra Yvonne for all of your feedback and encouragement to publish this essay. Thank you Steven Foster for your feedback and making my iPhone photos look like scanned 90's film photographs. And thank you Michael Dean and Grace Sydney Smith for valuable feedback on this essay.